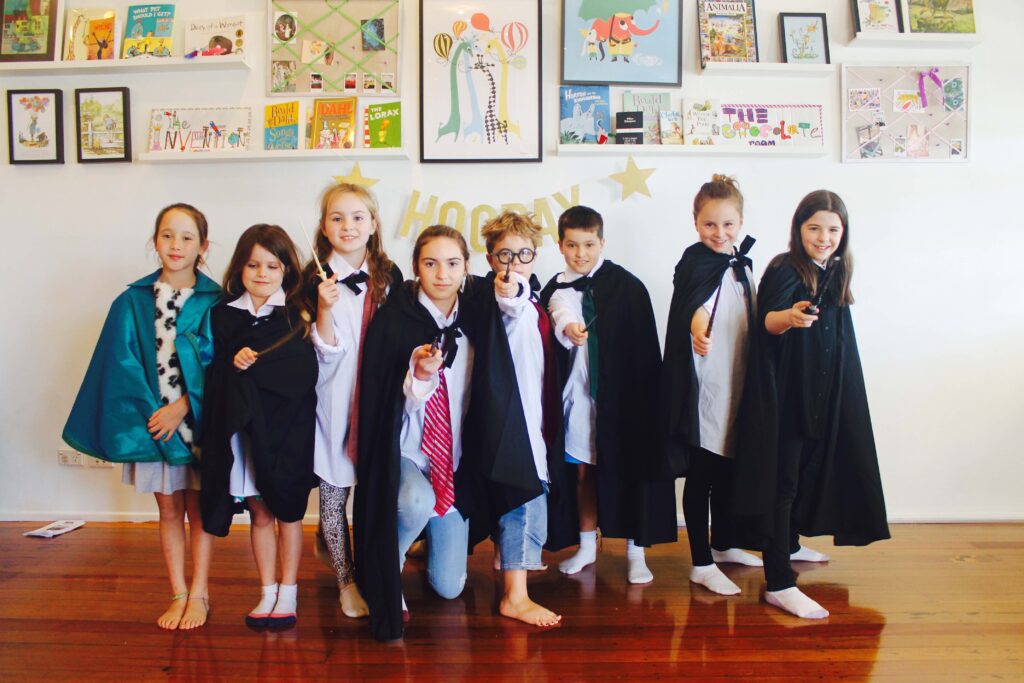 The Little Experts program was created to give older students a chance to work on more advanced skills and techniques, while still having heaps of fun! You can think of Little Experts as level two of the Speak Up Holiday Workshop Syllabus. These workshops run over two mornings or afternoons, or throughout the day on Wednesday.
What happens during the workshops?
Speak Up Studio's Little Experts workshops longer workshops, designed to extend student's skills in a particular area through fun, engaging, challenging content and activities.
What age group are these workshops for?
Little Experts workshops are designed for primary school students in grade three to six. Grade seven and eight students are welcome, but content may be somewhat easy for them.
​How does the day run?
Little Experts workshops usually run from 9.00am to 12pm and 12.30pm to 3.30pm each day. Most workshops are split over two mornings or two afternoons. Students booked into both the morning and afternoon sessions will be supervised between 12pm – 12.30pm.
What do we do about food?
Supervised snack breaks for Little Experts workshops are held at appropriate times throughout the day. Please send your child along with plenty of healthy food for the day. Please send your child along with plenty of healthy food for the day.
Can parents stay and watch?
We prefer if parents do not stay to watch the workshops as your presence can be a little distracting for our students and teachers. We would love to welcome you to watch the performance at the end of certain workshops, and we promise to share lots of photos and videos at the end of each day. Thanks for understanding!
Where are the workshops held?
Little Experts workshops are held at our Red Hill Studio only.
What should my child bring and wear?
Students should wear comfortable clothes. Dressing up is encouraged! Please send your child with a water bottle so we can ensure they stay hydrated throughout the day.
How are children supervised?
Students will be signed in upon arrival, and will be supervised until they are collected at the end of the day. All breaks are supervised. Please let us know the name of the person who will be picking up your child when you sign them in. We are unable to release students into the care of an adult who has not been listed on our attendance sheet.
How much do workshops cost?
Little Experts workshops run for six hours and cost $120 each. Students are welcome to attend individual workshops, or book in for a full day or full week. A discount of $50 is available when booking in for a full week of Little Experts.
How do I register for workshops?
All bookings can be made via the parent portal. Credit Card payment is required at time of booking.
​
Positive Feedback from Kids in Brisbane
"My daughter and her friend have done at least one workshop together every school holidays for the past couple of years. They just love it. Especially the musical ones." – Catherine (mum, 2017)
Everyone that I've had interactions has been really lovely to deal with. My son had a terrific time in the music video workshop today. – Bianca (mum, 2017)

Easter Little Experts Workshop Descriptions
Hogwarts School Of Acting and Wizardry
(Monday & Tuesday 9am – 12pm)
Hogwarts is accepting muggle students for two days only! Come along to experience the magical world of Hogwarts by acting out scenes and monologues from the Harry Potter books. You will spend the two days learning performance skills and perform at the end – who will you play?
Matilda Musical Theatre
(Monday & Tuesday 12.30pm – 3.30pm)
Whether you're mummy says you're a miracle, or you like to be a little bit naughty, come along and learn to sing and dance to songs from Matilda the Musical. All little maggots are welcome, but don't let Miss Trunchbull find out, or you might end up in the chokey!
Descendants Music Video
(Wednesday 9am – 3.30pm)
Long Live Evil! Celebrate being W-I-C-K-E-D in this Descendants Music Video workshop. Whether you are a whiz at dancing, or work best behind the camera, all jobs need filling to bring some of our favourite Descendants songs together – the video will end up on YouTube to show your friends!
Improvisation and Theatre Sports
(Thursday & Friday 9am – 12pm)
Do you love acting and performing? This two day workshop is all about giving you the tools to become a wonderful actor who can improvise! Explore movement, character, story and emotion through fun and challenging improvisation games that teach you to think on your feet.
School of Rock Musical Theatre
(Thursday & Friday 12.30m – 3.30pm)
Rock along with the kids at Horace Green Prep School in this rocking two day workshop! We will form a band and learn songs and scenes from School of Rock, the musical. World, watch out, it's time to play when we perform our work at a rocking performance for parents. Rock on!!
---
Workshop Timetable
Up Next: Born to Perform Workshops
Next up is our Born to Perform workshop program for students in grade three to grade eight.