The Little Experts program was created to give older students a chance to work on more advanced skills and techniques, while still having heaps of fun! You can think of Little Experts as level two of the Speak Up Holiday Workshop Syllabus. These workshops run over two mornings or afternoons, or throughout the day on Wednesday.
What happens during the workshops?
Speak Up Studio's Little Experts workshops are longer workshops, designed to extend student's skills in a particular area through fun, engaging, challenging content and activities.
What age group are these workshops for?
These school holiday workshops are designed for primary school students in grade 3 to 6. Grade 7 and 8 students are welcome, but content may be somewhat easy for them. For younger children, we recommend our Short and Sweet Program.
How does the day run?
Little Experts workshops are full day workshops and run from 9 am – 3.30pm. Students will have a morning tea and lunch break during the workshops and will be supervised at all times.
What do we do about food?
Supervised snack breaks for Little Experts workshops are held at appropriate times throughout the day. Please send your child along with plenty of healthy food for the day. We would appreciate if you could avoid packing nuts. There is an on site cafe at the studio if you wish to purchase extra food.
Can parents stay and watch?
We prefer if parents do not stay to watch the workshops as your presence can be a little distracting for our students and teachers. We would love to welcome you to watch the performance at the end of certain workshops, and we promise to share lots of photos and videos at the end of each day. Thanks for understanding!
Where are the workshops held?
Little Experts workshops are held at our Red Hill Studio only.
What should my child bring and wear?
Students should wear comfortable clothes. Dressing up is encouraged! Please send your child with a water bottle so we can ensure they stay hydrated throughout the day.
How are children supervised?
Students will be signed in upon arrival, and will be supervised until they are collected at the end of the day. All breaks are supervised. Please let us know the name of the person who will be picking up your child when you sign them in. We are unable to release students into the care of an adult who has not been listed on our attendance sheet.
How much do workshops cost?
Little Experts workshops run for six hours and cost $110 each. Students are welcome to attend individual workshops, or book in for full week.
How do I register for workshops?
All bookings can be made via the parent portal. Credit Card payment is required at time of booking.
Book Online Via The Parent Portal

Positive Feedback from Kids in Brisbane
"My daughter and her friend have done at least one workshop together every school holidays for the past couple of years. They just love it. Especially the musical ones." – Catherine (mum, 2017)
Everyone that I've had interactions has been really lovely to deal with. My son had a terrific time in the music video workshop today. – Bianca (mum, 2017)
Easter Workshop Timetable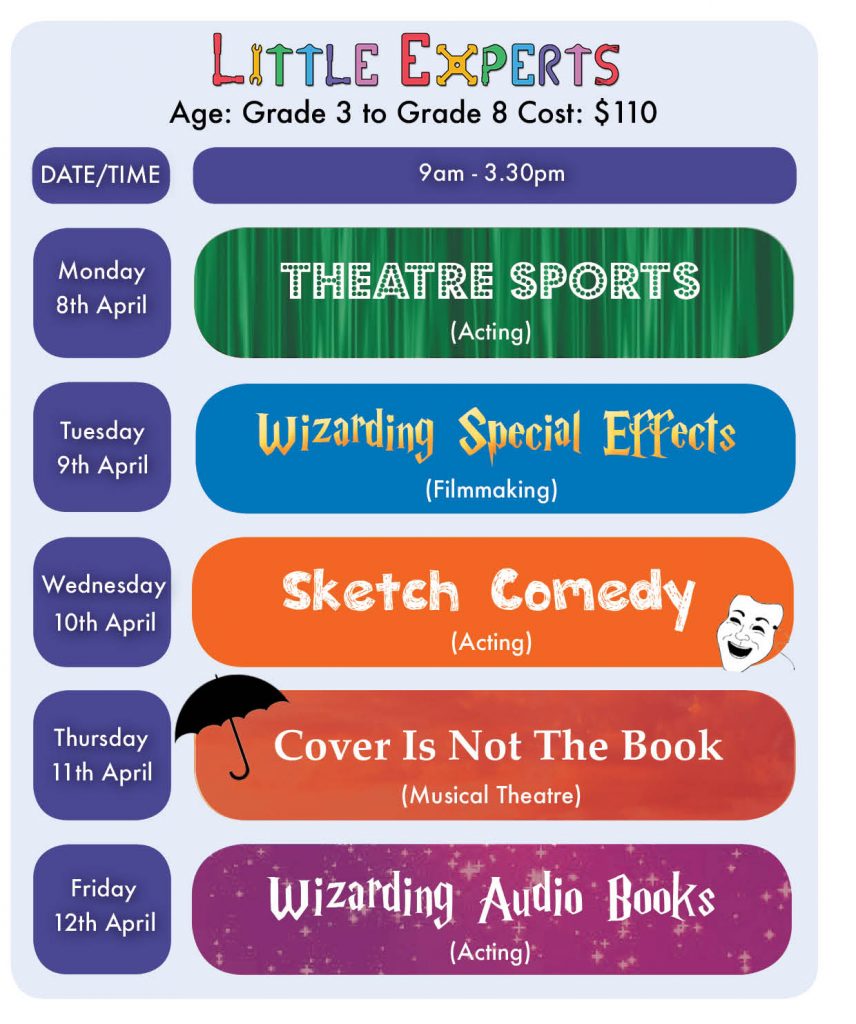 Little Experts Workshop Descriptions
Theatre Sports
Monday 8th April, 9am – 3.30pm
Do you love acting and performing? Are you keen to test your improvisation skills on stage? During this one day workshop, we'll cover the basics of improv including mime, offers, story, comedy and character. You'll learn how to play all sorts of hilarious improv games, like death in a minute, fairy tales, the oracle, marriage counsellor, complaints desk. Then it's time to break into teams, and battle it out in the ultimate theatre sports tournament. Prizes for creativity, risk taking, bombing out and teamwork! *Please note that Speak Up workshops are generally non-competitive, there is an element of competition in theatre-sports activities. Chat with us if your child might need some extra support in this regard.
Wizarding Special Effects
Tuesday 9th April, 9am – 3.30pm
"It's leviosa not leviosa!" Bringing the Wizarding world to life was one of the greatest challenges for the makers of the Harry Potter films. Luckily, there are some awesome apps that help us create amazing special effects like levitation, shape shifting and spell casting. During this workshop, you will combine your acting skills with some technical wizardry and transform yourself into an on-screen witch or wizard.
*please note, students will need to bring an iPad or smart phone to this workshop*
Sketch Comedy
Wednesday 10th April, 9am – 3.30pm
I say, old chap! Can you believe there's a workshop at Speak Up Studio all to do with being silly and clowning about like those fellows from Monty Python? Goodness! Those fellows tried to sell dead parrots, got attacked by rabbits and were very good at being funny! Jolly good! (Perfect for you if you're a kid who has always wanted to learn more about skits, scenes, and comic acting techniques!)
Cover is not the Book
Thursday 11th April, 9am – 3.30pm
Grab your bowler hat and take a trip with us to the Royal Dalton Music Hall! The stand out song from Mary Poppins Returns is so much fun to sing and dance to. During this workshop, you will develop your singing, dancing and acting skills, and learn the choreography from the movie. This workshop ends in a spectacular performance for parents!
Wizarding Audio Books
Friday 12th April, 9am – 3.30pm
If you're a fan of the Harry Potter books we hope you've had the chance to listen to the brilliant audiobooks narrated by Jim Dale or Steven Fry. Now it's your turn! In this workshop you learn all about voice acting, accents, character voices, reading skills and narration techniques, and record your very own Harry Potter audiobook.
Book Online Via The Parent Portal
---
Up Next: Born to Perform Workshops
Next up is our Born to Perform workshop program for students in grade three to grade eight.