Dreamers Group (grade 7 – 12)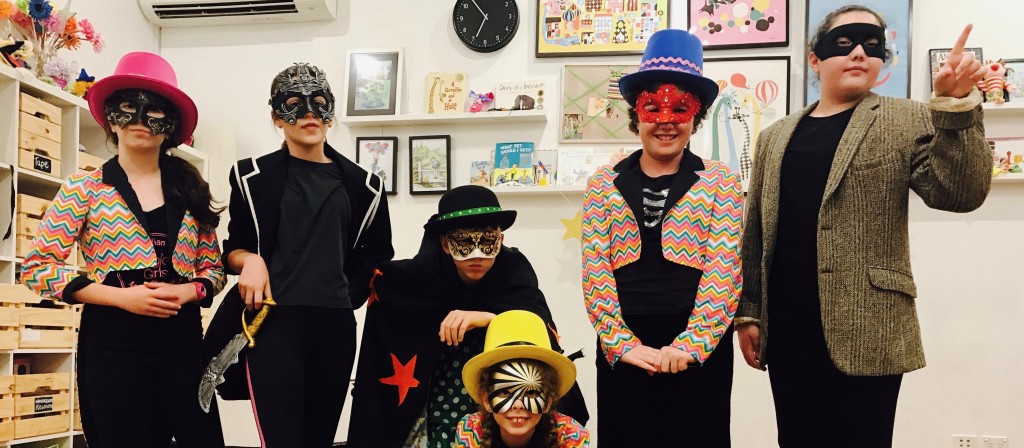 Dreamers is a Voice and Acting group program for students in grade 7 to 12. At this level, classes are only available at our Red Hill venue. This reflects the effort and commitment that all of our Dreamers share.
Dreamers are confident and self aware. The Dreamers thrive in a group. By this time in their Speak Up Story, Dreamers are secure in their Speech and Drama skills, and live for the opportunity to perform on stage. Many of our Dreamers are undertaking AMEB exams within their Individual Lessons or Philosophers groups.
The Dreamers program is on the one hand a creative outlet for our students, and on the other hand an opportunity to learn about and perform different genres of theatre. Their teacher will watch in amazement, as students quickly grasp and understand a broad range of literature and dramatic theory.
The teacher also takes on the role of director, with each semester culminating in the performance of a one act play. Plays include, A Midsummer Night's Dream, The Importance of Being Earnest, Fuzwollops Frame of Mind, Peter and the Star Catcher and more. Dreamers is the end of the Speak Up Imagination Curriculum, with interested students invited to apply for our Teacher Training program when they are ready. 
Enrol now via the Parent Portal
How long are the classes?
Dreamers classes run for 90 minutes over eight weeks in term time. Classes begin in week two of each term.
What happens in class?
Dreamers classes are spent learning about different dramatic genres, acting out snippets from each genre. Students perform in a one act play at the end of each semester.
Can parents stay and watch?
Parents beware. Drama kids at work. All will be revealed at the end of the term!
What performing opportunities will my child have?
Dreamers perform a play at the end of each semester. Dreamers often help as teaching assistants back stage at the Imagination Festival and our Annual Concert, as many of them are beginning work on their Teacher Training.
What resources will my child receive?
Each child receives a sturdy Speech and Drama folder when they enrol. The folder is like a giant pencil case, and is big enough to hold their scripts and shirt, and small enough to fit in their school bag! Students receive workbooks based on each unit and a copy of the play they will perform.
What should my child wear?
Every Dreamer looks fabulous in their black Speak Up shirt, which they will receive for free. Dreamers rehearse and perform in drama blacks, so students should wear black leggings or pants with their Speak Up shirt.
How many children in a class?
Our optimum class size is 20 students, although many classes are smaller! ​
Can my child try a class?
Speak Up does not offer trial lessons to new students as we do not believe it is possible for a child to get a full understanding of what our programs are like in just one lesson. We offer a one month guarantee instead. Pay for your first month, come along for up to four weeks and if your child isn't loving it, we we will cancel your enrolment and you won't be charged any more for the term. Learn more by reading our terms and conditions.
What are the fees?
Our fees are designed to be EASY! Everything is included in 3 x payments of $120 each term.  Learn more by reading our terms and conditions.
How do I enrol my child?
All bookings can be made via the parent portal. Credit Card payment is required to secure your child's place.
What's the next step in the Speak Up Imagination Curriculum?
When your child has completed Dreamers, we believe they are ready to fly away from Speak Up, armed with the confidence, communication skills and creativity that will be with them for life. For students wishing to continue studying with Speak Up, our Teacher Training program is the next step.

---
I just wanted to extend a big congratulations and thank you to the team at Speak Up. We thought the performances at the showcase were just brilliant. Not only in their delivery but also the choices made for the kids to make it fun, funny and motivating. The children's enthusiasm and aplomb was very evident on the night!!! Well done to you all in opening their hearts and minds to the world of theatre and drama. – Bianca (mum, 2017)
---
 Up Next: Individual Lessons
Where will we journey to next on our Speak Up Studio tour?
Individual Lessons for students from grade six