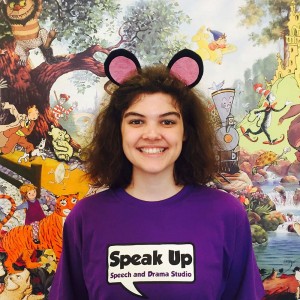 Miss Jessie – Speech and Drama Teacher
Miss Jessie is a down to earth individual who adores teaching and working alongside young people. With a background in musical theatre performance herself, Miss Jessie is passionate about inspiring and mentoring young performers as they grow and step bravely into the best versions of themselves. 
Miss Jessie has been performing ever since she graduated high school in 2011 with companies such as Brisbane Junior Theatre, Harvest Rain, and in festivals, such as Short & Sweet. She has wandered through festivals as Rapunzel, played a vast and versatile range of roles, and has worked on shows in almost every backstage position possible. Since studying drama in high school and performing in her grade 12 musical, Miss Jessie has graduated from a two-year internship with Harvest Rain Theatre Company. She is also in the final stages of receiving her qualifications for a Diploma of Musical Theatre from Unity College and a Bachelor of Arts degree from the University of Queensland, majoring in drama and sport. She has been teaching singing, musical theatre, and drama for the past couple of years and without fail brings her undying passion for all these things into the classroom.
Miss Jessie believes in life being big, bright, bubbly and colourful.
Favourite Quote – Life is a great big canvas; throw all the paint you can at it.
---